The Fly Yoga program is a part of downtown Fredericksburg's Premier Fitness Boutique, Fly Fitness Inspiration, which offers a vast array of fitness classes as well as high quality yoga instruction.

Our yoga teachers are committed to supporting and leading a yoga community that serves all populations. If you are simply seeking some time on your mat to sweat it out or gently restore your body from your other athletic endeavors, we've got you covered! We believe the time you spend on your mat gives you the space and tools to better connect with yourself, so that you can serve your family, the community and the world we live in at your highest potential. Most of all, we value creativity, authenticity, and fun with a passion for sharing yoga!
Theresa Goad teaches both Vinyasa Flow and Foundations of Yoga/Stability classes with an emphasis on alignment and core strength for all levels of practitioners. She has been practicing yoga for 8 years and in 2016 she earned her certification of 200 hours of yoga teacher training from Yoga Alliance. Theresa is also certified in Pilates, which she has been teaching for over 10 years, so her classes stem from a mixture of both practices. Theresa first discovered yoga as a way to increase strength and flexibility to assist in her running goals. While she still enjoys a good sweaty workout on the mat, what brings her back to the practice daily, is the peace and inner stillness she finds from the breath work in asana. As a mom of 2 young children, she understands that people come to her classes with all kinds of stressors in their daily lives. Her goal is to guide her students through a practice that emphasizes safe and functional movements with a specific focus on breath, mindfulness and developing a positive wellbeing.
Stephanie Coiner, like many, originally pursued yoga as another physical challenge, but she quickly learned that the physical benefits were simply just the tip of the iceberg. The potential for personal growth through this practice was more than she could have ever expected. After years of inconsistent practice it finally all came together in 2013. Stephanie became very involved with CrossFit and realized, almost immediately, that she needed a balance to her training and yoga became the perfect accompaniment. In the spring of 2016 she began her Teacher Training and began teaching that July. In addition to being a RYT 200, Stephanie is a CrossFit Level 1 Trainer (although not currently coaching).
Stephanie says that her yoga practice has positively impacted every single part of her life. Yoga has taught her to let go as often as it has inspired her to hold on. She encourages students to recognize the strength and capabilities of their bodies and uses yoga to help light the way into this self-discovery. Her classes are fun, physical and accessible for any body, including yours! She teaches Stability on a weekly basis, but you may see her popping in to cover a flow or restorative class too. As your teacher, Stephanie will guide you from a place of love and pure acceptance. Her goal as a teacher is to share the amazing gift of yoga and to open the door to a practice that has potential beyond our wildest comprehension.
Amanda Sinn began teaching yoga in 2015, upon completing her RYT 200 with Dragonfly Yoga Studio. Prior to making the decision to pursue teaching, Amanda graduated from Radford University, where she studied Dance, and received her Bachelor of Fine Arts degree with a concentration in Classical dance. It was at Radford where she was introduced to yoga by her modern dance professor, Danah Bella, who was also a certified yoga instructor. Danah emphasized the importance of breath in her classes and choreographic works, and on occasion, taught yoga outdoors in place of technique class. Amanda also spent two semesters in college studying Somatics, or Pilates, from her incredibly talented and beautiful, creative soul of a professor, Margaret Devaney.
As a dancer, Amanda was naturally drawn to practicing yoga, as the concept of establishing body awareness is so prominent in both disciplines. She hopes to share her love of yoga with students, helping them to find peace on the mat through mindful movement and breath. In Amanda's classes, students are encouraged to let go of what no longer serves them and welcome a positive intention. This can be quite a difficult task, but Amanda believes it all starts on the mat, one breath at a time. In addition to teaching vinyasa and restorative styles of yoga, Amanda also instructs barre classes at FLY. She completed her Barre Body Method instructor certification at Studio Body Logic in Alexandria in 2016. Her goal in every class is to provide students with a challenging class, promoting correct alignment to ensure safety and avoid injury. She is incredibly passionate about movement and looks forward to continuing her journey as a teacher, while always remaining a student.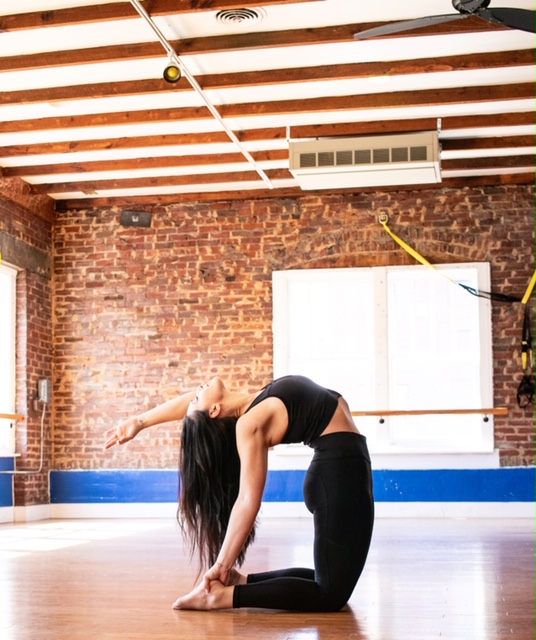 Born in Florida, Marina has lived in VA since she was ten years old and graduated from UMW in 2014. Exploring yoga at first as a way to relieve stress, Marina found that incorporating a yogic mindset played an integral role in her growth, confidence, and overall quality of life. Inspired to share her practice with others, Marina decided to pursue her RYT-200 training in 2015. Marina emphasizes the connection between mind, body, breath and movement and believes that yoga has a wide range of both physical and mental benefits for people of all ages. Her classes have an athletic undertone that encourage students to take on new challenges with an emphasis on modifications, listening to their bodies and expelling judgment.
Ashleigh Burbidge, RYT 200, with 2 years of active teaching and 5 years of practice, teaches Power flow, Foundations of Flight, Intermediate Flow and Monthly Youth Yoga. Ashleigh's background in fitness, (she also holds a Personal training Certification from American Council on Exercise) can be felt in her classes as she blends classical yoga postures and sequence, with a focus on mindful mobility and both functional flexibility and strength. Ashleigh received her 200hr teacher training in Falls Church, VA at Blue Nectar Yoga in the spring of 2016 and began teaching hybrid yoga classes at the Rappahannock YMCA, where she was a group fitness instructor and youth fitness teacher. Ashleigh found her home at Fly in the winter of 2016, and joined the instructor team in March of 2017, when she launched our Flight class, focusing on building a practice that can incorporate arm balance postures. Her goal as a teacher is to encourage students to constantly explore, to break self-imposed boundaries and never forget to be playful.
Outside of the studio Ashleigh can be found exploring our town parks and often playing on the river or local lakes (Stand Up Paddle Instructor also), with her three children and husband, TJ, who is also a 200hr Certified Yoga Teacher.
Kassi Cruz teaches Vinyasa Flow with a touch of lyengar yoga, (holding poses for longer periods). She also teaches Fly's Beginner Yoga/Hatha class, which is a gentle flow from posture to posture. Good for those new to the practice as well as those with wrist and shoulder issues.
Kassi has been practicing yoga for 7yrs. In the beginning she started yoga for the physical aspect of it, however it quickly became about the mental benefit. Learning that if you can calm the breath the mind will calm too. What a beautiful lesson to use off the mat and in real life when things can get a bit hectic. This is what she strives to teach her students. Calm the breath, calm the mind. Just BREATHE. In the fall of 2017 she graduated from Satchidananda Ashram Yogaville Integral yoga 200hrs YTT.
Janet Sullivan's teaching style is gentle, introspective and soulful. She invites you to pause, get centered, tune out the noise and tune into the powerful voice within. Janet's classes offer a welcoming and expansive space to connect to your breath, heart, mind and spirit. She is guided by her passion to share the practice in a way that is accessible to all. Janet is certified with Yoga Alliance at the 200 hour level and has been practicing yoga since 2010. Janet is also an executive coach and HR consultant working with leaders at the highest levels in corporate and nonprofit settings. Founder of Planted Leadership, LLC she offers leadership coaching programs to leaders. Janet holds a BA in Psychology from George Mason University and a Master's in Strategic HR from the University of Denver. Janet is a student of Georgetown University's renowned leadership coaching program.
Sign Up Now!
Come join the city's hottest fitness studio in the heart of downtown Fredericksburg.